In an ongoing trademark dispute between Forever 21 and Gucci, Forever 21, Inc. v. Gucci America, Inc., et al., 2:17-cv-04706 (C.D. Cal.), Gucci recently got the upper hand, slightly: the court granted Gucci's partial motion to dismiss–but permitted Forever 21 to amend its complaint.
This dispute began nearly a year ago, in December 2016, when Gucci sent Forever 21 a cease and desist letter demanding that Forever 21 cease all sales of garments and accessories bearing the stripe combination blue-red-blue. Gucci owns a federal trademark registration for that stripe combination.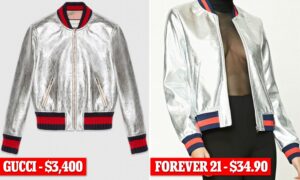 Gucci sent two more cease and desist letters in January and February 2017, threatening to file suit against Forever 21 if the garments and accessories containing blue-red-blue and green-red-green stripes were not removed from its stores and website.
Instead of responding to Gucci's letters, Forever 21 preemptively filed a declaratory judgment action against Gucci in the United States District Court for the Central District of California asking the court to declare that its garments and accessories do not infringe Gucci's striped marks.  But Forever 21 didn't stop there. It also requested that Gucci's trademark registrations for the stripe combinations be cancelled based on lack of secondary meaning, aesthetic functionality, and genericism.
In response to Forever 21's declaratory judgment action, Gucci moved to dismiss and filed counterclaims for trademark infringement, trademark dilution, and unfair competition.
On November 13, 2017, the Court agreed with Gucci that Forever 21 had failed to sufficiently allege facts supporting its claims for cancellation of Gucci's striped marks, but gave Forever 21 leave to amend its complaint.  In other words, Forever 21 gets another bite at the apple.
It is important to keep in mind when you send a cease and desist letter in a trademark case that the letter itself will put the other side on notice that you may file a trademark infringement or dilution lawsuit against them. This threat, without actually filing suit, gives the other side time to preemptively file its own declaratory judgment action.  Suit is often filed in the most convenient, suitable jurisdiction for the other side, which may well be someplace inconvenient for you.  Be aware of this possibility the next time you send out a cease and desist letter.
If you need help understanding your trademark rights, Goodell DeVries can help. Contact Jim Astrachan at 410-783-3550 (jastrachan@gdldlaw.com) or Kaitlin Corey at 410-783-3526 (kcorey@gdldlaw.com).