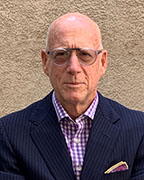 Congratulations to our partner Jim Astrachan on being selected by The Daily Record as a 2022 Icon Honors recipient.
The Icon Honors recognizes Maryland business leaders over the age of 60 for their notable success and demonstration of strong leadership within and outside their fields. The honorees have moved their businesses and the state of Maryland forward by growing jobs and making a difference in the community.
Jim and his fellow honorees accepted the award at a gala celebration on December 13, and partners Kaitlin Corey and Donna Thomas were there to cheer him on.
To be eligible for Icon Honors, honorees must have a long-standing commitment to the Maryland business community, and a sustained commitment to community service and mentoring. The winners were selected by the editors of The Daily Record.
Jim is a partner at Goodell DeVries and represents clients in intellectual property law and litigation, mediation, and business and transactional matters. He is a frequent author and speaker and has taught IP at Maryland's two law schools for more than two decades. He has been an adjunct professor since 1979, teaching IP courses at the University of Maryland School of Law, the University of Baltimore School of Law, and the University of Baltimore's Graduate School of Communications Design. He taught taxation at Loyola's Sellinger School of Business.
Jim and Goodell DeVries partner Donna Thomas are the authors of The Law of Advertising and Mass Communications, a six-volume treatise published by Matthew Bender Lexis/Nexis. In 2013, Jim devised and was editor of The Patent, Copyright, Trade Secret, Right of Publicity, Trademark Handbook for Maryland Business and Litigation Lawyers, published by the MSBA; a second edition of this work was published in 2019.
Jim is the founding Chair of the Maryland State Bar Association's Intellectual Property Committee, and for more than a decade served on the editorial board of the Maryland Bar Journal.
He is also a Life Fellow of the Baltimore City Bar Foundation, the Maryland Bar Foundation, and the American Bar Foundation.
Jim is President of the Baltimore Bar Foundation and Chair of the Bar Association of Baltimore City's Professional Ethics Committee
In 2019, Jim received The Daily Record's Lifetime Achievement Award, and in 2013, he received its Leadership in Law Award.
For the past decade, Jim has chaired The Daily Record's Legal Advisory Editorial Board.
Jim is ranked among the top intellectual property lawyers by Chambers USA, Best Lawyers in America, and Super Lawyers.
Please join us in congratulating Jim. He can be reached at (410) 783-3520 or jastrachan@gdldlaw.com.