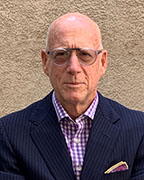 Goodell DeVries partner and intellectual property lawyer Jim Astrachan has been appointed to two leadership roles this month. He was named President of the Baltimore City Bar Foundation and will serve a one-year term. 
Jim was also appointed Chair of the Bar Association of Baltimore City's Professional Ethics Committee, a role in which he will serve until May 2023. 
Jim represents clients in intellectual property law and litigation, mediation, and business, regulatory, and transactional matters. He is a Life Fellow of the Baltimore City Bar Foundation, the Maryland Bar Foundation, and the American Bar Foundation. He has been an adjunct professor since 1979, teaching IP courses at the University of Maryland and University of Baltimore Schools of Law and University of Baltimore Graduate School of Communications Design, and taxation subjects at Loyola's Sellinger School of Business.